Are you tired of receiving unwanted emails on Yahoo? The good news is, it's actually quite easy to unsubscribe from emails on Yahoo. In this blog post, we'll show you how to do it in just a few steps.
Understanding the Unsubscribe Feature in Yahoo Mail
What are Subscriptions in Yahoo Mail?
Subscriptions in Yahoo Mail are email lists or services you willingly join to receive regular updates, newsletters, or promotions.
Why should you Unsubscribe on Yahoo Mail?
Unsubscribing in Yahoo Mail declutters your inbox, minimizing distractions and enhancing focus on vital messages for improved productivity.
Manage your subscriptions in Yahoo mail
See all your Yahoo mail Subscriptions from Cleanfox
Follow these simple steps to to see the email lists you are subscribed to.
Download Cleanfox
Install the app for free, then connect your Yahoo inbox.
Go to 'Newsletters tab'
After scanning your mailbox, Cleanfox will give you a complete overview of all your Email subscriptions
Choose 'List' or 'Cards' view
You can see all the sender you are subscribed to in list or cards.
List view
Give you a global overview of all the sender you're subscribed to.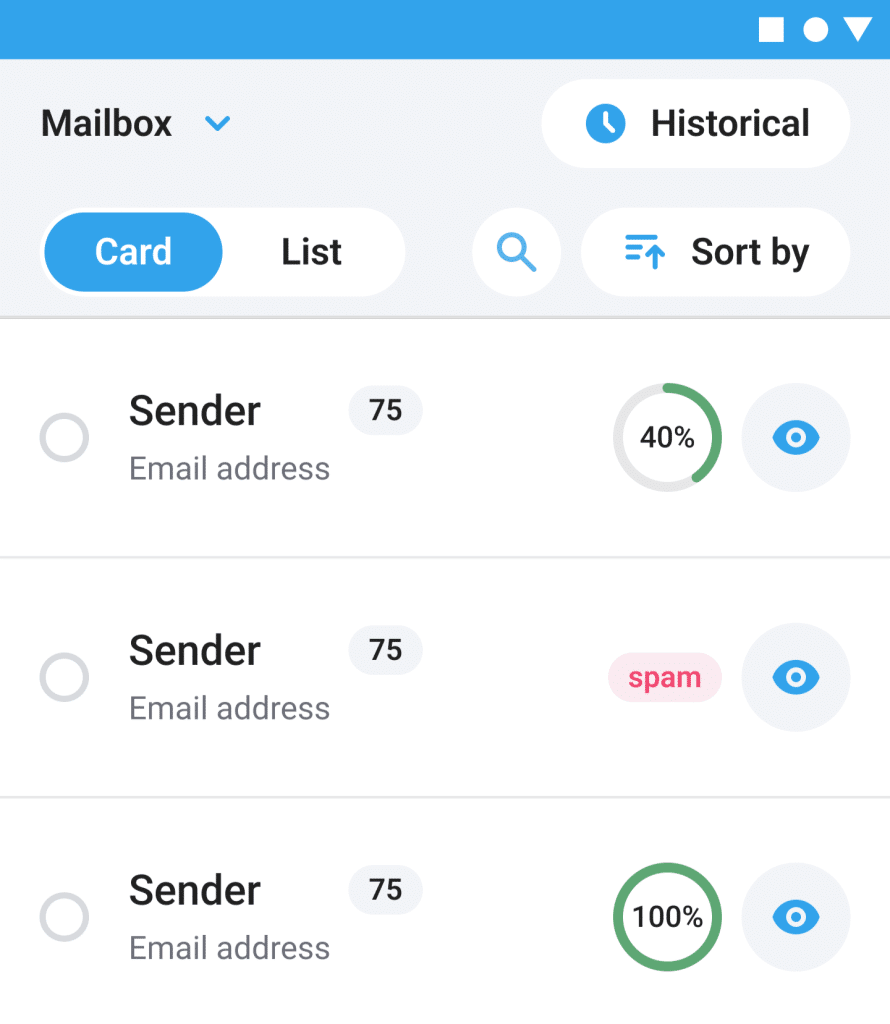 Card view
Simplifies the mailbox cleaning process. You can see all the senders one after the other.
If you need more informations about the app, you can check how Cleanfox works on our blog.
See all your Emails Subscriptions on Yahoo mobile app
Open the Yahoo Mail mobile app.
Scroll down on the home page and click on 'More.'
Select 'Subscriptions' from the options.
This page will display all your subscriptions.
See all your Emails Subscriptions on Yahoo.com
Open your web browser and go to my.yahoo.com. This is the Yahoo Mail homepage.
Scroll down the page until you find the "Views" option (on the left menu)
Look for the "Show" button and click on it. This will display additional options.
Scroll further down and click on "Subscriptions." This will take you to a page where you can view your active subscriptions.
If you want to see your unsubscribed subscriptions as well, click on the 'Unsubscribed' button provided on the page.
Sometime this option isn't available for Yahoo web version users. In this case, we recommend to use Cleanfox to see & manage Emails Subscriptions.
How to Unsubscribe from Emails on Yahoo : Our methods
Fastest way to stop Unwanted Emails on Yahoo : Cleanfox
Cleanfox allows you to quickly and easily block multiple emails directly from the app.
Blocking an email means you won't receive any more email from that specific sender.
To Unsubscribe in Cleanfox follow these steps :
Go to 'Newsletters' tab in the app
Swipe left on 'Card view' on every sender you want to unsubscribe from.
Click on the red button located on the left of the screen in list view.
Tips for unsubscribing in Cleanfox :
To only block useless emails, we recommend using Cleanfox sort by feature.
Click on 'Sort' in the top right-hand corner.
Sort by 'The least open'.
Delete or block useless emails.
Sort by 'Descending order' for number of emails received.
Delete or block useless emails.
This way, you can streamline your inbox by removing unwanted and repetitive content.
Unsubscribe from Emails on Yahoo.com & Yahoo Mail app
Manually Unsubscribe :
Open the email you want to unsubscribe from.
Scroll to the bottom of the email.
Click on the "Unsubscribe" option.
Confirm your decision by clicking "Yes, Unsubscribe" in the new window.
---
Unsubscribe on 'Yahoo Subscription Hub' :
Go the to the subscription page on Yahoo mail app or Yahoo.com (not always available).
Identify the unwanted emails you want to unsubscribe from.
Click on 'Unsubscribe' button or 'Block'.
Unfortunately you can't sort or filtrer emails with this feature. This means that it can be tricky to identify unwanted emails. Cleanfox would be a better option to get a better overview of your newsletter subscriptions and manage them.