Yahoo Mail is one of the most popular free email services. It has many features, including social network integration, unlimited storage space, the ability to send large attachments, and more. To optimize your Yahoo and keep it running smoothly, it's important to keep it well organised, secure and clean regularly.
How to set up your Yahoo Inbox to optimize it ?

Configuring the messages in your Yahoo mailbox is essential to gain productivity and to optimise the security of your personal data. It also saves a lot of time and improves the performance of your device.
Use shortcuts in Yahoo to optimize your productivity

To save time when writing emails on Yahoo, use keyboard shortcuts. For example, you can easily refresh your inbox by pressing the m key on the keyboard. To reply, use the r key. The combination CTRL + F brings up the search bar. A full list of shortcuts is available on Yahoo Mail Help.
You can also use some of the keyboard shortcuts mentioned in our article: Gmail: 5 Tips to boost your productivity in 2020
Save a signature

Save a signature allows you to automatically insert your contact details or a message at the bottom of every email you send. This is a handy feature, especially for professionals. To activate it, do the following:
Place the cursor on the Settings drop-down menu at the top right of the screen.

2. Click on More Settings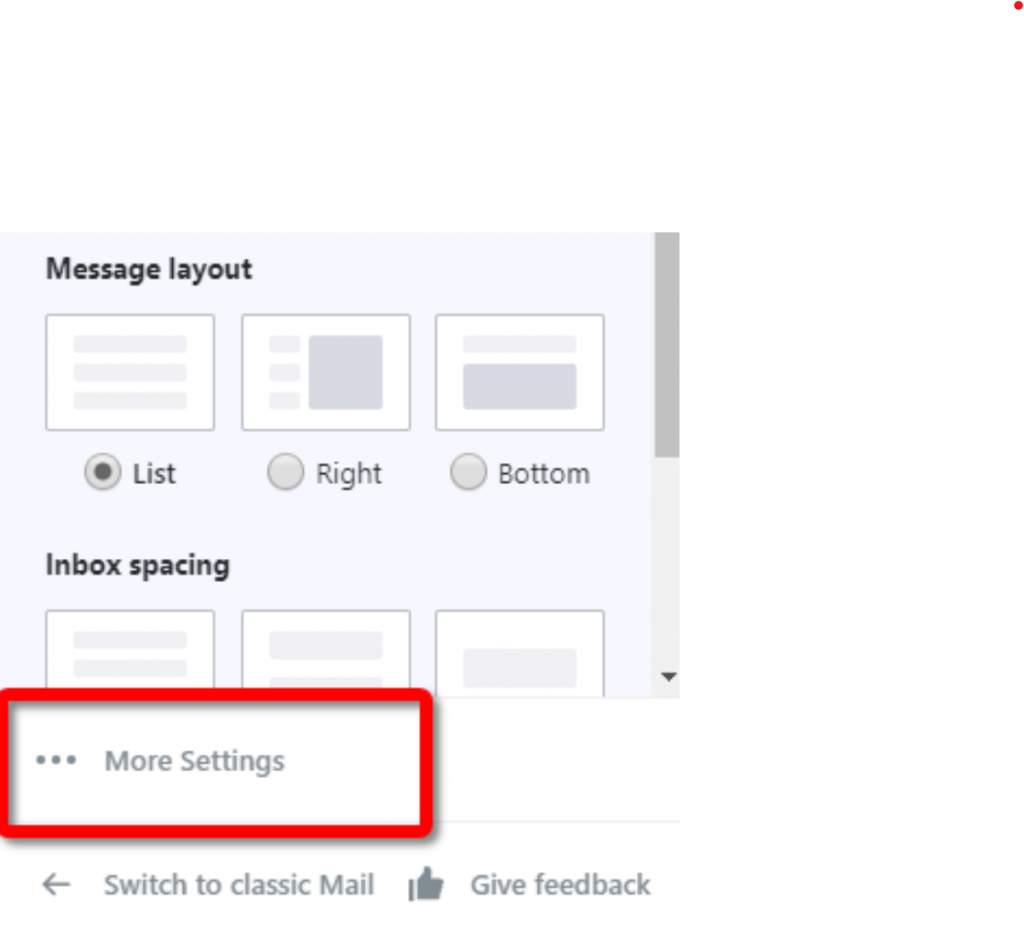 3. In the list on the left hand side of the screen, click on Mail writing, then Signature.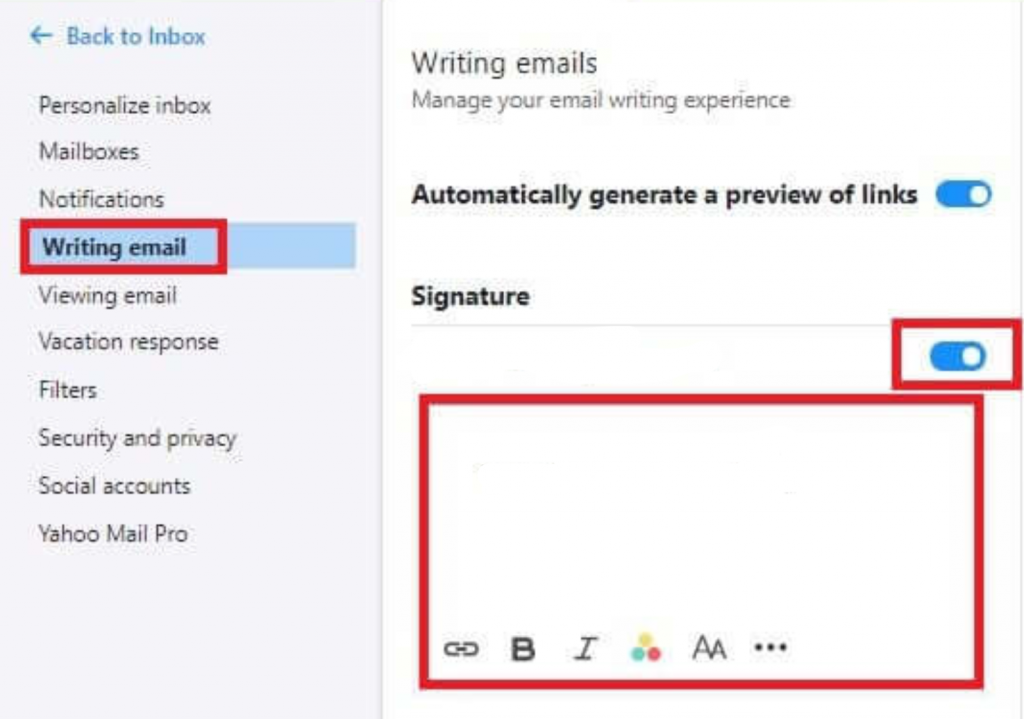 Scheduling automatic emails to optimize your Yahoo mailbox
Sometimes you can't check your inbox and answer all your emails. Schedule automatic replies to make it easier for you.
Click the Options drop-down menu at the top right of your inbox.
Select Mail Options.
Click on the Auto Reply feature in the left-hand column of the page.
Check the box Enable automatic reply between these dates (inclusive).
Choose your dates.
Increasing the security of your mailbox
To properly secure the information in your Yahoo account, you can enable two-step validation. It is also possible to set up application passwords to allow logging in via third-party applications or devices.
Enable two-step verification
To enable two-step verification on Yahoo:
Go to the security page for your yahoo.com or yahoo.com account.
Next to the Two-step verification option, click the toggle button to enable it.
Enter your mobile phone number.
Click Send SMS or Call me to get a verification code.
Enter the verification code, and then click Verify.
Opting for application passwords
To generate an application password on Yahoo:
Go to your account security page.
Click Generate Application Password or Manage Application Passwords.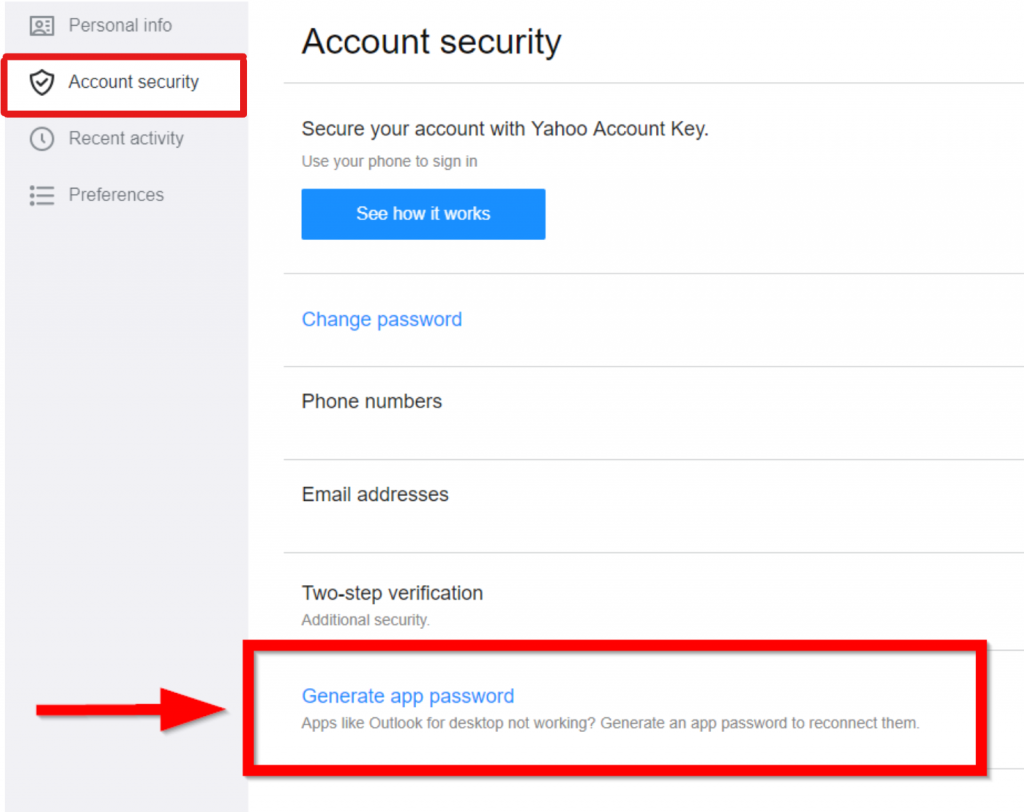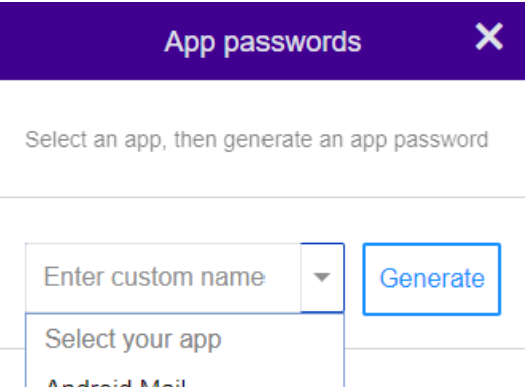 Follow the instructions below the password.
Click Done.
The next time you log in, use this application password and your email address.
Clean up your mailbox

To keep your Yahoo mailbox running smoothly, clean it regularly with Cleanfox. This free software helps you remove spam and unsubscribe from newsletters.