You are having a hard time to connect your Gmail address to Cleanfox ? Do not panic, we explain it all here.
To guarantee the safety of its users, Google has recently reinforced the access and the verification of gmail accounts.
So now, it takes more time to connect your email box to Cleanfox.
On the other hand (and that is way better for you), your account is safer.
Enough chit chat, how to log into Cleanfox with a Gmail address ?
It is a little bit longer but it is still easy. You just have to go through 3 steps out of Cleanfox, directly into your Gmail settings and those of your Google account. Don't worry, we guide you through each step !
? Keep this page open while you are going through each steps.
Step 1 : Turn on IMAP
1. On your computer, open Gmail by clicking here
2. In the top right, click Settings
3. Click Settings.
4. Click the Forwarding and POP/IMAP tab in the "IMAP access" section, select "Enable IMAP"
6. Click Save Changes (⚠️ don't forget this important step)
Step 2 : Set up 2-Step Verification
1. Go to your Google Account by clicking here
2. On the left navigation panel, click Security
3. On the Signing in to Google panel, click Step Verification
4. Click Get started and follow the steps on the screen.
5. When you have entered your validation code, click on ACTIVATE to turn on 2-step verification.
Step 3 : Create an app password
1. This password is specially created by Google for you to log into Cleanfox.
2. Go to your Google Account
3. On the left navigation panel, choose
Security
1. On the "Signing in to Google" panel, choose App Passwords


5. At the bottom, choose Select app and choose Other
6. Write Cleanfox and choose
GENERATE.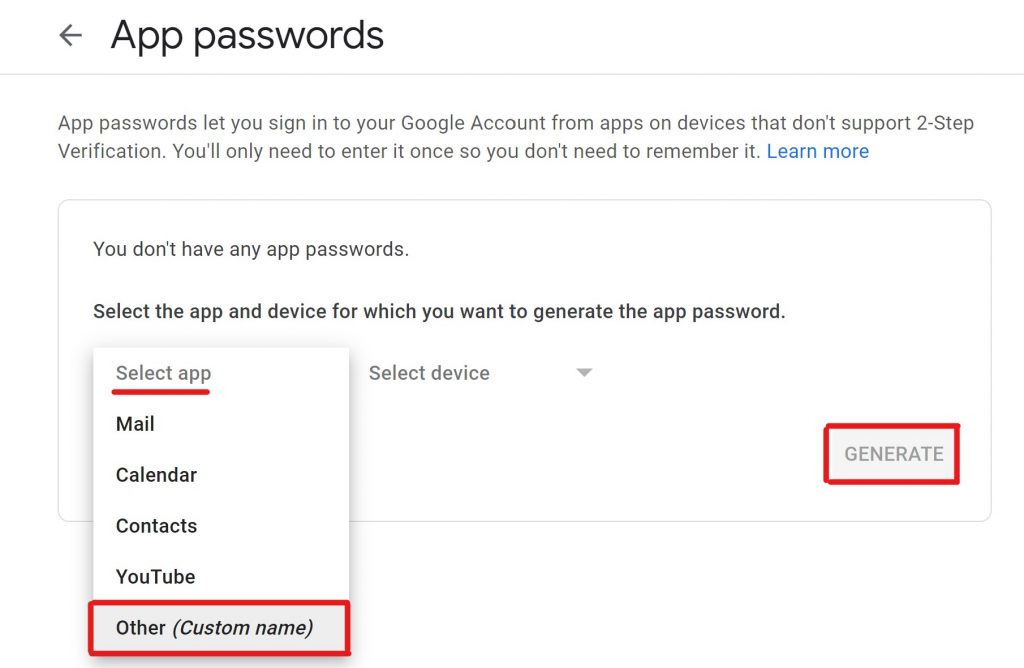 7. Copy the app password (the 16-character code in the yellow bar on your device.
Believe it or not, you are finally done ! Now you just have to go back on Cleanfox by clicking here and enter your email address and the app password you just have copied !