Have you decided to create a Gmail email address but don't know how to do it? We have prepared this article to help you not only create your account, but also to manage your messages and optimize the performance of your Gmail mailbox.
Why using Google webmail service?
It is possible to create a Gmail account for personal or professional use. By opting for Google email, you also have a powerful search tool, an effective spam filter and other features such as calendar, agenda… Also, you can import all the messages from your other mailboxes into your Google account.
Gmail is easy to use and has a user-friendly and customizable interface. Additionally, your mailbox is subdivided into three distinct tabs: main, promotion, social networks. Thus, the most important messages are highlighted. You don't have to search your inbox to find them, saving you time and productivity.
You can easily check your messages on any device. They are automatically synchronized. Finally, your Gmail account also allows you to store an unlimited number of messages, send large attachments and share files online. You can also chat in real time with your friends.
How to create a Google account?
Before accessing Gmail, create a Google account. The username and password will allow you to connect to Gmail and other Google products such as YouTube, Google Play and Google Drive. To create your Gmail address, do the following:
1. Go to the www.gmail.com address from your usual web browser
2. Click on the Create an account link at the bottom of the page
3. Fill in the required information: First and last name
4. Choose your email address @gmail.com
5. Enter the password of your choice and type it a second time
6. Indicate your birthdate, eventually your phone number and another email address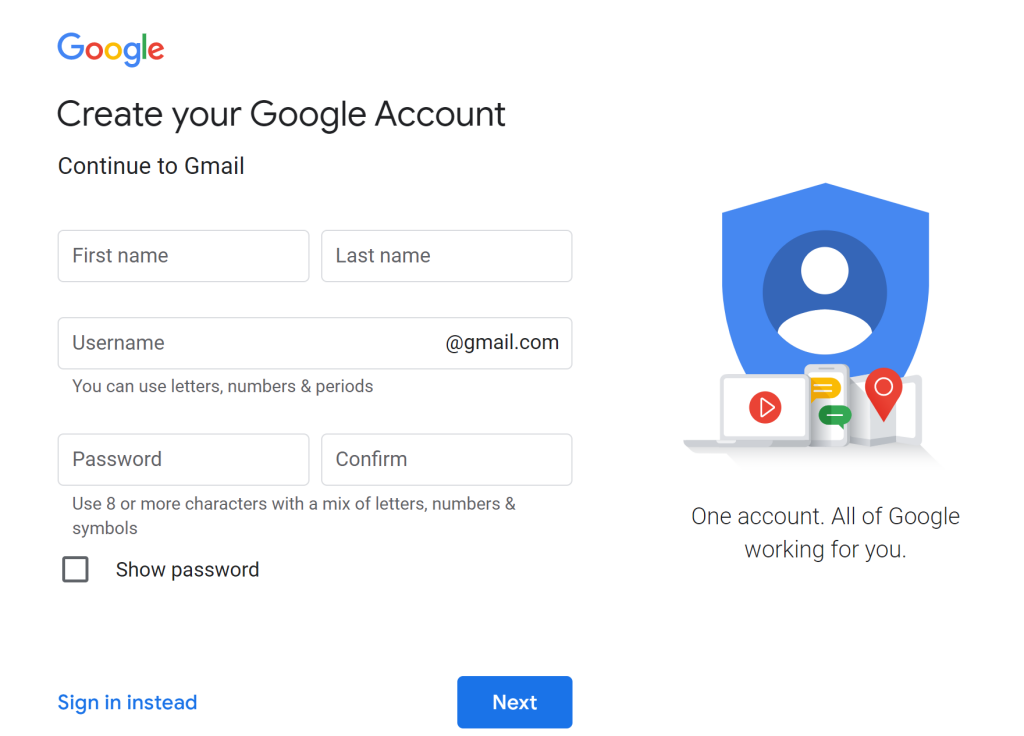 7. Copy the characters in the image displayed by Gmail
8. Tick the box to accept the conditions of use of the service
9. Validate by clicking on the button "Next"
10. Your new email address is created and Google welcomes you
11. Click on the button Continue towards Gmail
To make it easier to log into your Gmail account, save your password in your browser. This option is not recommended if you are using a shared computer.
Clean manually your Gmail mailbox
To manually clean your Gmail inbox, check the box at the beginning of each mail you want to delete, then on the trash. If you want to delete several messages at the same time. Follow these steps
1. Enter a keyword (sender or date for example) in the empty bar at the top of the page or select a tab (main, social media or promotions)
2. Tick the box that allows you to select emails
3. Click on delete selection
Use Cleanfox to clean your mailbox in no time

With Cleanfox, you don't need to select messages one by one to clean your mailbox. This software allows you to delete unwanted emails and unsubscribe from newsletters with a single click. Simply associate your email with this tool, which will sort messages according to their sender and then ask you to delete, unsubscribe or keep them. Finally, Cleanfox makes it possible to optimize the organization and operation of your messaging system.