Do you keep receiving advertising mails and all kinds of messages that don't interest you? To fight against these mails, you can block a particular email address! This way, you can better concentrate on more important tasks. In this article we explain how to stop spam and newsletters once and for all .
Why block an e-mail address?
There are many reasons why one person might block another's e-mail address. Perhaps you have already received uninteresting messages that just clutter up your mailbox.
Spam is also a real nuisance. Moreover, this type of mail does not contain an unsubscribe link and you cannot reply to the sender to let him know that you are not interested in his mail.

Sometimes you subscribe to newsletters, which in the end are not as interesting as you thought. You may also receive intrusive newsletters for which you have not even signed up.
Similarly, when you enquire about a product, marketers send you all sorts of emails to entice you to buy the product. They also offer you various promotional offers. Finally, the only way to stop receiving such messages is to permanently block the senders' e-mail address.
Steps to follow to block an email address
Blocking an e-mail address is very easy. In fact, all e-mail programs have a spam filter and offer the possibility of blocking a sender. As an example, we have chosen to explain how to proceed with Gmail, but the principle is the same with other Webmails:
Log in from your usual browser using your login details (email address and associated password).
Open the mail from the unwanted sender.
At the top right of the message, click on the button with a downward arrow.
Click Block followed by the sender's name.
If you no longer wish to block a certain sender, simply click the arrow again and select the reverse procedure.
You should also be aware that the default setting for the spam filter in Outlook is No automatic filtering. You should change this option to receive less spam.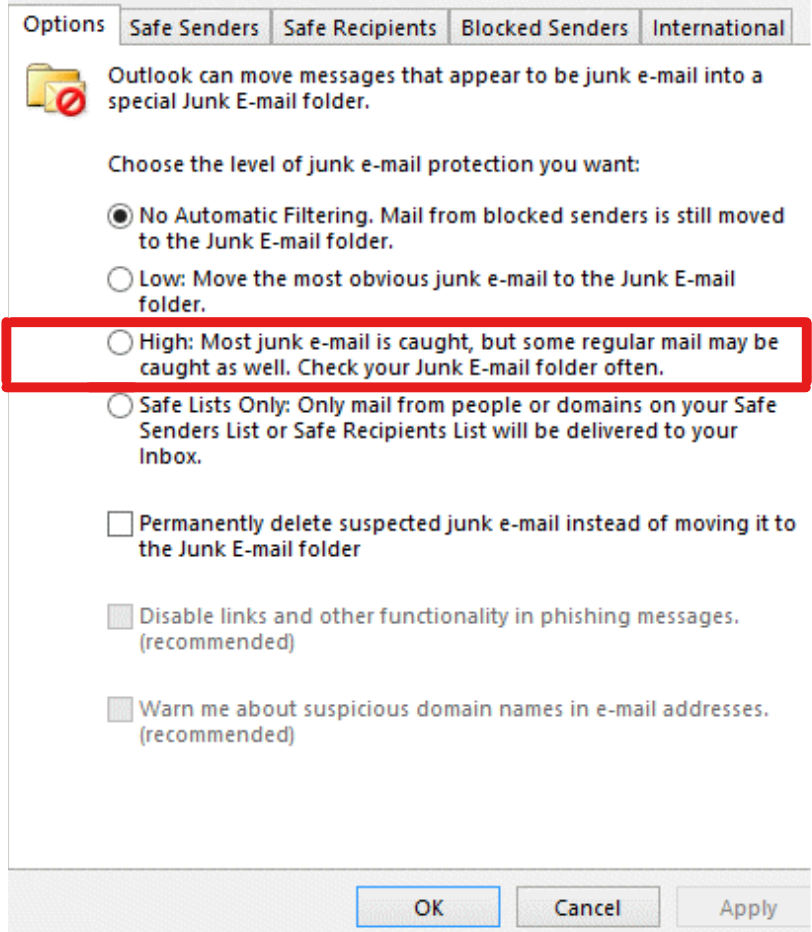 Unsubscribing or deleting from mass mailings:
When you subscribe to newsletters or a group, or follow a friend on social media, you automatically receive an email from them. You are part of their mailing list. This list is used to automatically send mass emails. To stop receiving this type of message, you can simply blacklist the senders. You can also unsubscribe via their website, or via the footer of their newsletter, where you will find a link similar to this one:

Use Cleanfox to clean up your mailbox

It is important to clean up your mailbox regularly to improve its functioning, but also to better secure your personal data. Instead of deleting unwanted mail one by one or blocking it, you can use Cleanfox to do this for you.

This free software is easy to use. All you have to do is link it to your email. The tool, which also comes in a mobile version, scans your mailbox. It then sorts the messages according to the sender. With one click, you can choose between deleting the emails or unsubscribing.