In this blog post, we'll guide you through the simple steps to unsubscribe from emails in Gmail. By mastering this process, you'll regain control, reduce email overload, and focus on what truly matters. Let's dive in and simplify your email management once and for all!
What Does it mean to Unsubscribe from Emails on Gmail?
Unsubscribing from emails in Gmail means opting out of receiving further messages from a particular sender or mailing list.
It helps declutter your inbox and reduces unwanted email communications.
How do I see all my Email Subscriptions on Gmail?
See all your Email Subscriptions in Cleanfox
Follow these simple steps to to see the email lists you are subscribed to.
Download Cleanfox
Install the app for free, then connect your Gmail inbox.
Go to 'Newsletters tab'
After scanning your mailbox, Cleanfox will give you a complete overview of all your Email subscriptions
Choose 'List' or 'Cards' view
You can see all the sender you are subscribed to in list or cards.
List view
Give you a global overview of all the sender you're subscribed to.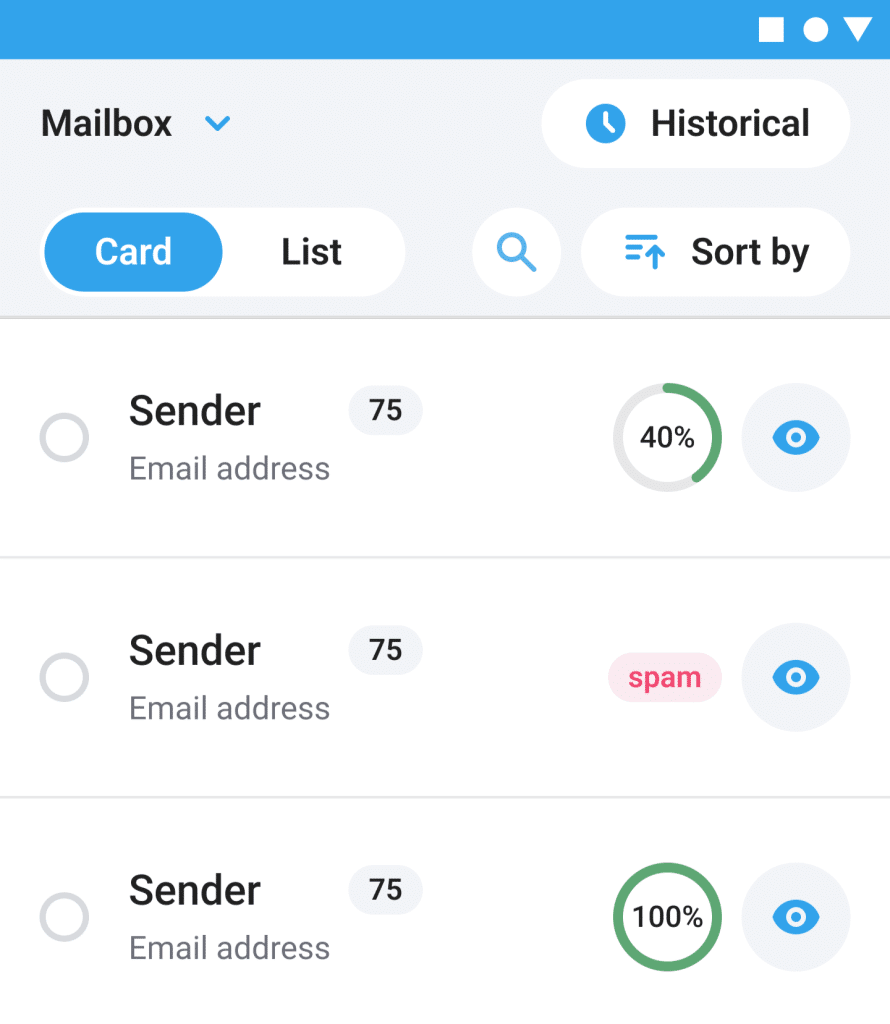 Card view
Simplifies the mailbox cleaning process. You can see all the senders one after the other.
See all your Email Subscriptions from Gmail
Currently there's no way to see all your email suscriptions directly in Gmail.
But what you can do is search For Emails That Contain The word "Unsubscribe".
How to Unsubscribe from Emails on Gmail
The Fastest way to Unsubscribe from Emails in Gmail : Cleanfox
Cleanfox allows you to quickly and easily block multiple emails directly from the app.
Blocking an email means you won't receive any more email from that specific sender.
To Unsubscribe in Cleanfox follow these steps :
Install Cleanfox and connect your inbox.
Go to 'Newsletters' tab in the app
Swipe left on 'Card view' on every sender you want to unsubscribe from.
Click on the red button located on the left of the screen in list view.
Tips for unsubscribing in Cleanfox :
To only block useless emails, we recommend using Cleanfox sort by feature.
Click on 'Sort' in the top right-hand corner.
Sort by 'The least open'.
Delete or block useless emails.
Sort by 'Descending order' for number of emails received.
Delete or block useless emails.
This way, you can streamline your inbox by removing unwanted and repetitive content.
Manually Unsubscribe from Emails in Gmail
Go to Gmail.
Find an email send by an unwanted sender.
Click on the 'Unsubscribe button' located on the right of the sender's email address.
Click on 'Unsubscribe' on the pop-up that appears.

You can also unsubscribe from an email sender with a call to action link often located at the bottom of emails. Unsubscribing manually can be time-consuming and inefficient, which is why we recommend using applications such as Cleanfox.