Having your Google account disabled can be a frustrating experience. Whether it's due to using incorrect details, violating community guidelines, or encountering database errors, it's essential to know the steps for a Gmail account recovery. In this article, we will provide a detailed guide on how to enable a disabled Google account and address various scenarios that may lead to its deactivation.
Understanding why your Google account was disabled is the first step towards recovery. There are several reasons that may contribute to this issue, including:
Use of incorrect personal information or multiple Gmail IDs with the same mobile number.
Inappropriate content sent to others, leading to reports against your account.
Violation of community guidelines.
Accidental entry of wrong date of birth during profile updates.
If your account is disabled due to a forgotten password, follow the steps described in the article.
Open your Chrome browser and navigate to the Google Account Recovery page. This page provides assistance for regaining access to disabled accounts.
Verify Your Date of Birth

If your account was disabled due to an incorrect date of birth, you need to submit proper documentation to prove your actual birthdate. This may include government identification or credit card information. Once verified, your account will be reinstated, and you can access all your data.
Click on "Manage Google account" in the top right corner.
Go to "Personal info"
Verify your date of birth
Account Disabled Due to Database Error
If your account was disabled due to a database error, there is still a chance to recover it. Google allows users to download their data within a specified time frame. While your account is disabled, you can log in to retrieve your data. To regain access, you must provide proof of your identity by submitting government identification or credit card information through the designated portal. Google will review the information and reactivate your account accordingly.
Account Disabled for Policy Violation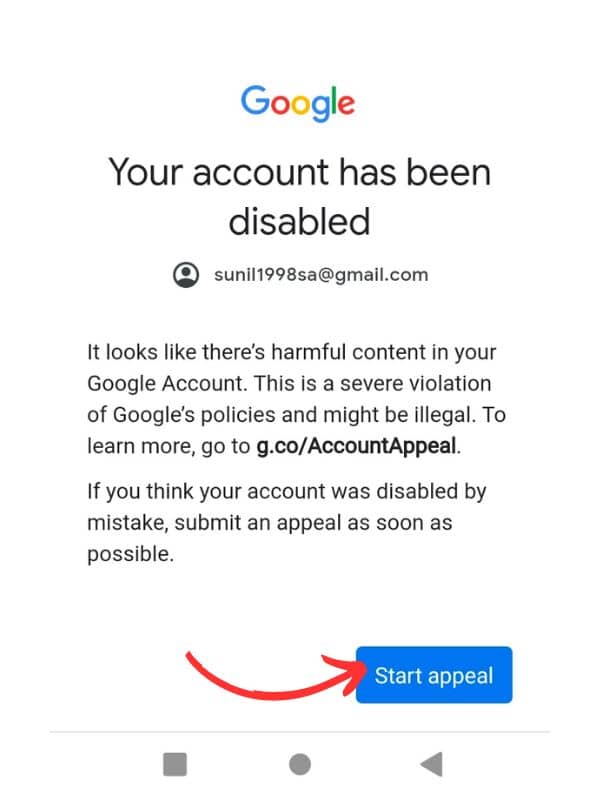 If your account was disabled due to policy violation, you can use the Google Account Disabled Form to appeal for account reactivation. In the comment or description section of the form, briefly explain what went wrong and why you believe your account was disabled. Be honest and mention any inappropriate content sent, as it may help in the recovery process. However, please note that the success rate for account recovery in policy violation cases is generally low.
Additional Steps and Resources
If the aforementioned steps don't yield positive results, you can try the following alternatives:
Google Community: Google does not provide direct support for disabled accounts. However, you can utilize the Google Community platform to communicate with Google representatives. Describe your issue and inquire about possible solutions. They might provide further guidance or suggest utilizing the Google Account Disabled Form mentioned earlier.
Scam Warnings: Beware of scammers claiming to restore disabled accounts. These individuals may promise account recovery for a fee, but they cannot deliver on their promises. Avoid falling victim to such scams and refrain from engaging with them.
Discover valuable Gmail tips and tricks to enhance your email management and productivity on our blog.