Christmas is coming… and this year it's Foxy who dons the Father Christmas costume! Win AirPods Pro in a few clicks while doing a good deed for the environment! The AirPods Pro are refurbished by our friends from BackMarket to avoid contributing in any form of digital pollution.
Where do I sign?
To take part in the competition, there's only one condition: you must have sponsored at least one person on Cleanfox*. The competition starts this Monday 9th November and ends Monday 16th, no time to lose! On Monday 16 November, the winner will be contacted by email and announced on our networks!
*Only sponsorships made between 9 and 16 November will be taken into account.
To share your sponsor code :
Go to the Cleanfox app or website
Sign in or create a free account
Sort and clean your mailbox
Go to the « Statistics » tab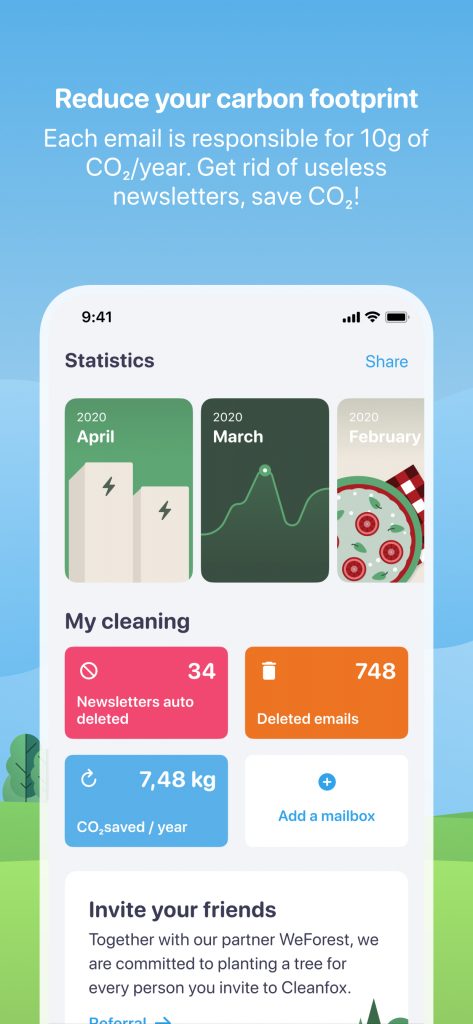 Click on « Invite your friends »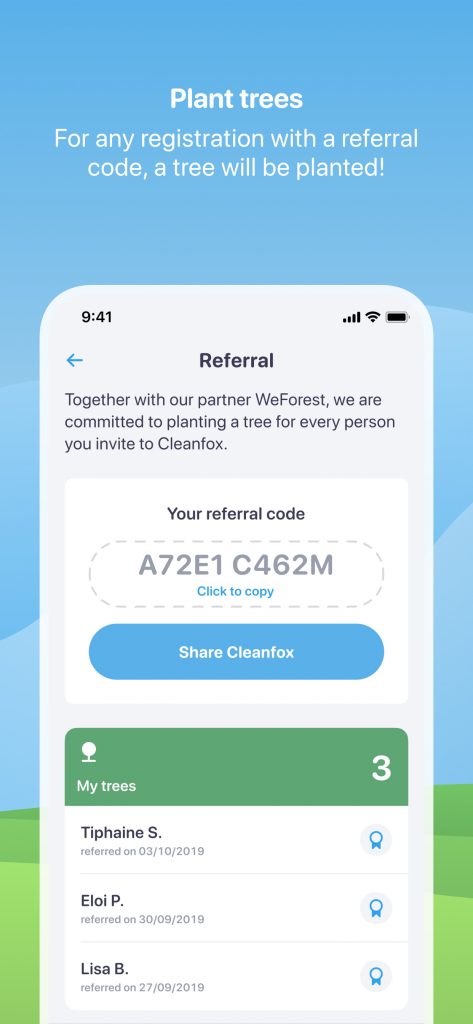 You can then choose to copy the link to send to your friends and family, use the sharing template visible below or simply send your code!

Example of sharing a code sponsor of one of our (incredible) users
Not convinced by this sponsorship model proposed since the app? As said before, you can also copy your code then share it with your relatives by message, by email (telling them to delete it after using it of course) or by carrier pigeon but not sure that it arrives in time…
We forgot to tell you, every time your sponsor code is used, a tree is planted in Tanzania thanks to our partner We Forest.
Wait… we didn't even have time to make the presentations!
Cleanfox is a free application that helps you clean your mailbox quickly and easily. We group the mails in your mailbox by senders then like on Tinder, Cleanfox gives you the choice: swipe right to keep the mails, swipe left to delete and swipe up to unsubscribe!
In this way, you reduce your carbon footprint and participate in the fight against digital pollution.

Why do we focus on emails?
60% of emails are never opened (Cleanfox)
Storing an email for one year causes the emission of 10 g of CO2, which is as much as a plastic bag (ADEME, TerraEco, Cleanfox)
In 2020, 3.5 million emails are sent every second in the world, and are responsible for 35 tonnes of CO2, the equivalent of 9 round trips from Paris to Los Angeles by plane (Statista, GoodPlanet Foundation, Cleanfox)
A Cleanfox user removes an average of 1500 emails, thus avoiding the emission of 15 kg of CO2 per year. That's as much as 125 km in a Ford Focus (Cleanfox, Peugeot)
Sorting your mailbox is an easy action to carry out on its own scale that will have enormous consequences if we all get together. Now it's up to us!