Is your mailbox full of unwanted messages and useless newsletters? Quickly get rid of them to
improve productivity and efficiency. At the same time, you help to secure your personal data and optimize the performance of your device. Cleanfox application is a free software published by the company Foxintelligence. It helps to clean mailboxes in record time. We explain here how to use this intelligent application.
Clean your mailbox in a single click with Cleanfox
Numerous softwares exist to clean mailboxes and Cleanfox is one of them. This tool offers a lot of advantages. Furthermore, the software is easy to use and completely free.
To clean your mailbox, associate it with Cleanfox. Then, the software will do a quick scan of the entirety of your messages to identity the old emails, spam and cumbersome newsletters.
Cleanfox sorts the emails based on senders and gives you the possibility to delete them and/or unsubscribe. With this tool, clean your mailbox in a single click.
How to create a Cleanfox account?
In order to register on the Cleanfox application, follow these steps:
1. Go to the Cleanfox homepage
2. Type your email address in the field, then click on "Connect my mailbox". If you already have an account, click on "I have already used Cleanfox" in order to receive a connection email




3. Follow the instructions displayed on the screen to clean your mailbox.
How to create a Cleanfox account with Gmail, iCloud or Yahoo?
Cleanfox is compatible with every messaging service such as Gmail, Yahoo, Outlook, iCloud,etc. To connect, you simply need to enter your email address. Afterwards, Cleanfox will ask you an authorization to connect to your account.
These mailboxes need a more secure connection process. You will then need to authorize the double authentication and create an application password.
There is no need to panic though, Cleanfox will guide you step by step through the process of creating your account.
How to create a Cleanfox account with another email address?
Cleanfox can clean your mailbox, whatever kind of mailbox. Additionally, you can always add multiple accounts. To do so, go to the settings of your account and click on the Add a mailbox button. There is nothing easier!
A newsletter creates around 10 grams of CO2 whereas the user open around only 10% of them. These statistics show that newsletters are a serious source of numerical pollution.
Once your mailbox is associated to Cleanfox, the software will automatically scan your mailbox to establish a list of newsletters. Once the scan is over, you have an overview of the newsletters received and those you have not opened yet. Then, you will simply need to choose between the 3 options offered by the software: delete, delete and unsubscribe or not doing anything.
You data is in security with Cleanfox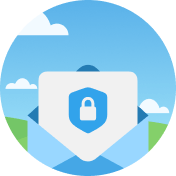 To increase the security of your personal data, use the double authentication or connect with an application password. Also, it is important to know that your personal data is absolutely safe with Cleanfox application. Indeed, Foxintelligence, the company in charge of this software, integrated the GDPR hence guaranteeing the non distribution of your data without your consent. Moreover, authorizations are required before accessing your account.
Users' personal data is collected only to improve their experience and provide them with technical support, a more personalized experience, as well as updates. Your data will never be used for commercial purposes. Finally, Foxintelligence respects the privacy of users and all the systems used are fully transparent.