Our comprehensive guide covers everything you need to know on how to delete all emails from your mailbox, regardless of the device or email service you use. Say goodbye to inbox overload
Why Should you Delete all Emails in your Mailbox?
Clearing out your mailbox by deleting all emails is essential for various reasons:
Firstly, it optimizes your digital space, preventing clutter and ensuring smoother email management. Removing unnecessary emails also enhances productivity, as it helps you focus on important messages without distractions.
Additionally, it improves email security by reducing the chances of falling victim to phishing or malicious attacks lurking in old messages.
Regularly deleting emails fosters a more organized and efficient communication system, enabling swift access to crucial information.
How to Delete All Emails in Gmail
All the techniques to Delete all Emails in Gmail are covered in our dedicated guide.
If you wish to delete all your Gmail messages, including those from Primary and other categories, follow these simple steps:
Sign in to your Gmail account via your web browser.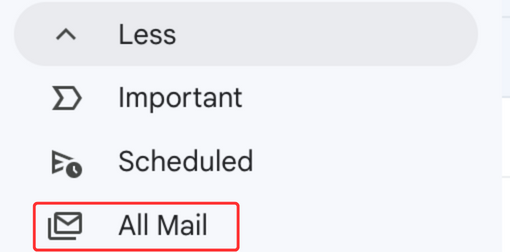 Locate and click on "All Mail" on the left side of the Gmail interface. (💡 Note: If you don't see it, click on the "More" dropdown first.)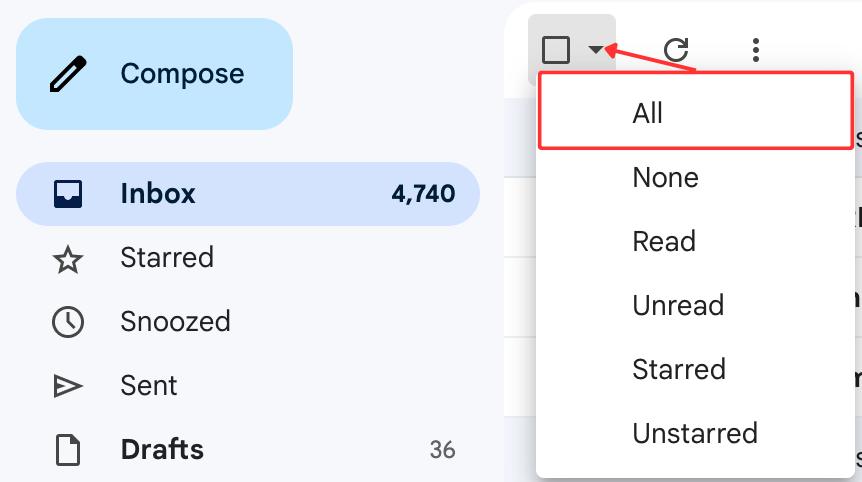 Check the box on the left above your messages to select all conversations.

A message will appear, saying "Select all … conversations in All Mail." Click on this blue text to select all your emails.

Once everything is selected, click on the "Delete" icon (trash can).
All selected messages will be moved to your Gmail's Trash folder.
To free up storage space, remember to permanently delete Gmail emails from the Trash folder within 30 days. (💡 Note: Trash emails still use storage until they are auto-deleted after 30 days).
For more details and technique on How to delete All Emails in Gmail, read our complete guide available on our blog.
How to Delete Multiple Emails in Outlook
For more details on How to delete all your emails in Outlook, check out our dedicated guide
Open Outlook and navigate to your inbox.

Find the "Select All" checkbox located at the top of the emails list & click on it

Refining Selection (Optional) : To exclude an email from your selection, simply uncheck the checkbox next to it.

Click on the "Delete" button in the top toolbar when you're ready to delete them.
For permanently deleting the emails, empty the "Deleted Items" folder.
All of this is detailed in our article How to Delete all Emails in Outlook.
How Delete All Emails on iPhone
If you are an iOS user, an check your Emails from Apple Mail, read our guide on How to Delete all Emails on iPhone.
Below is a summary of the guide:
Open your Mail app and access your Inbox.

Tap "Edit" in the upper-right corner.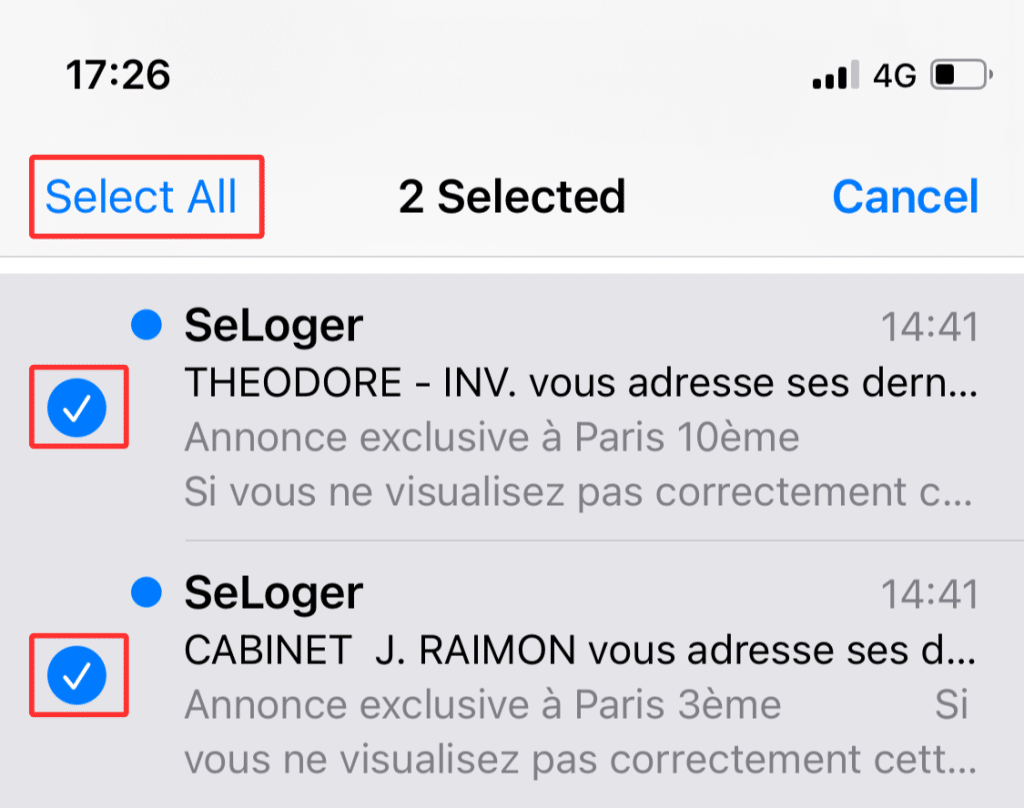 To delete emails individually, select them one by one. To delete all, tap "Select All."
Swipe down through the checkboxes to quickly select multiple emails.
Tap "Trash" or "Archive." If "Archive" is shown, hold it to reveal other options like "Trash Selected Messages."
Learn more iPhone tips to delete emails on our blog post How to delete all emails on iPhone.
How to Delete All Emails in Yahoo
Yahoo Mail users can also delete all their emails intuitively. For more advanced techniques, read our article: How to Delete All Emails in Yahoo mail.
Open your Yahoo Inbox.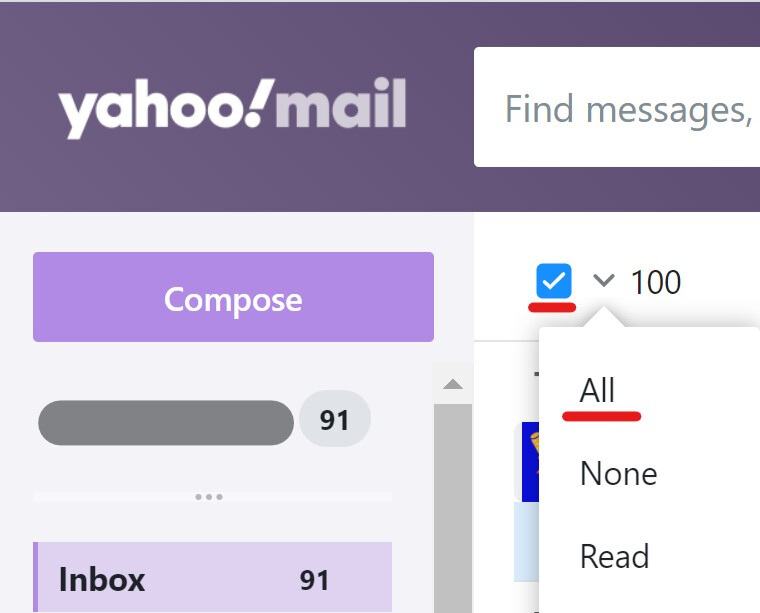 Tick the box underlined on the screenshot above.
Choose "All".
Double-check your email selection to deselect the important emails you want to keep.

Click on the "Delete" button
Keyboard shortcuts to Delete mass Emails
Keyboard shortcuts can help you delete mass emails, saving you precious time.
Select a series of Email: Click on first email + Shift + Click on last email
Select multiple Emails: Command (or ctrl) + Click on any Email you want to select
Select all Emails: Select an Email + Command (or ctrl) + A
Select all unread Emails: Shift + 8 + u
A Quick Way to delete all Emails : Cleanfox ✅
Cleanfox is a great tool when it comes to delete mass Emails. After scanning your inbox, the app will group all the Emails by senders. It enables you to only delete emails from spammy or unwanted senders.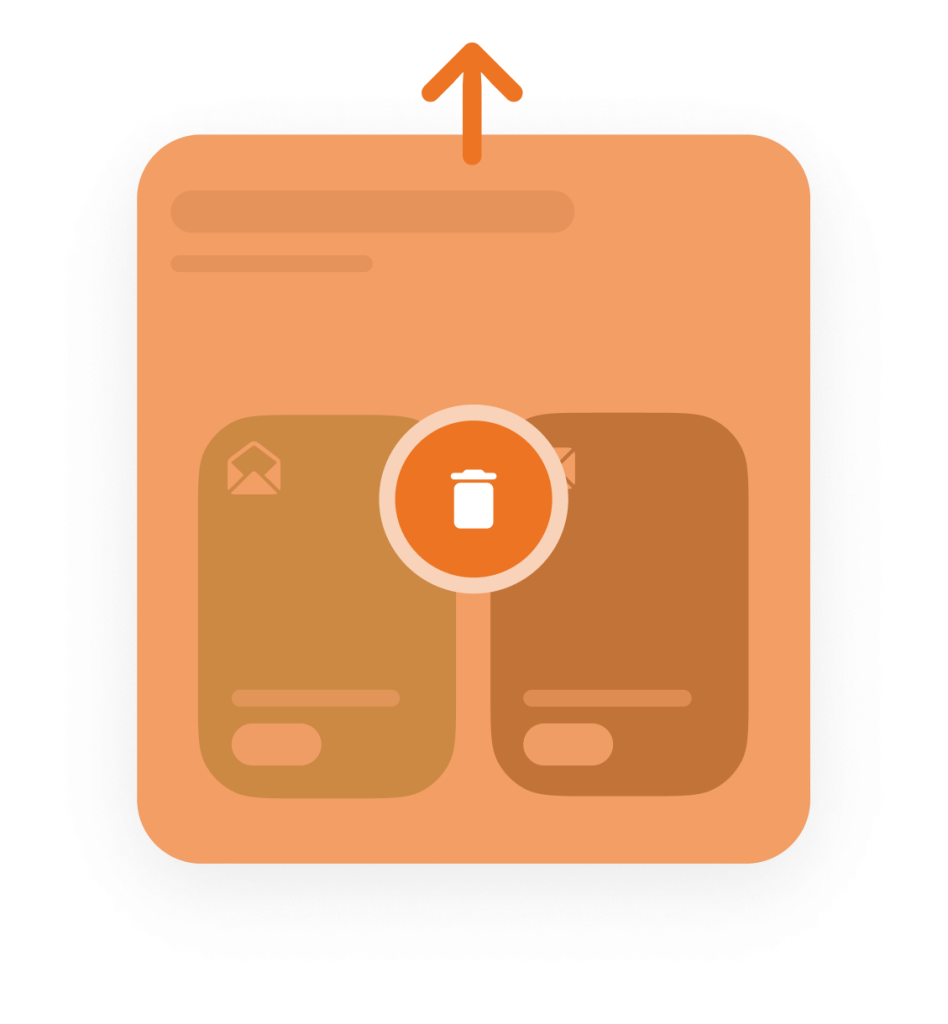 To delete emails in Cleanfox, just swipe-up on any unwanted sender or click on the orange button located on the middle of the screen.
If you need to connect your Gmail inbox, or your Outlook inbox to Cleanfox follow the steps described in our guides.
Sort and delete mass Emails with Cleanfox
Cleanfox lets you delete your emails intelligently.

Using its "Sort by" feature, you can filter out unnecessary emails and delete only those that are cluttering up your inbox. Then just swipe left on those useless emails, or click click on the orange button in the middle.
Delete all spam emails with Cleanfox
Cleanfox also offers a delete all feature. You can delete all emails from the spam tab on the application :
Go to Cleanfox, and apply the list view.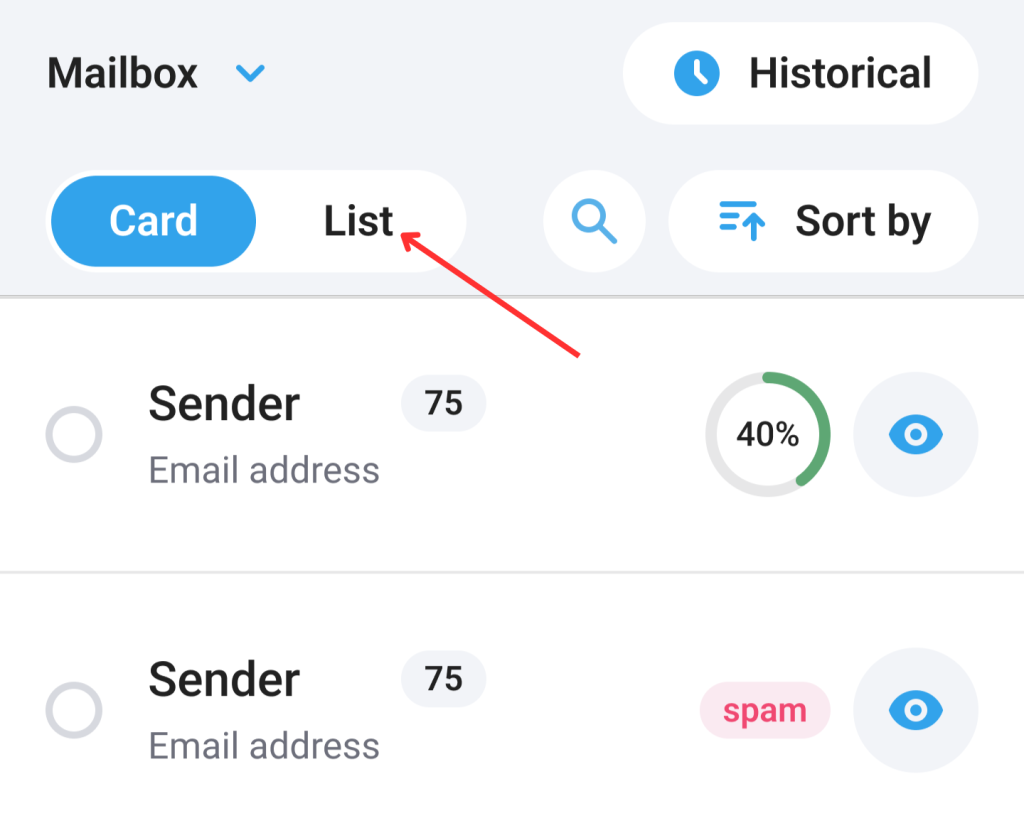 Click on "Spams" folder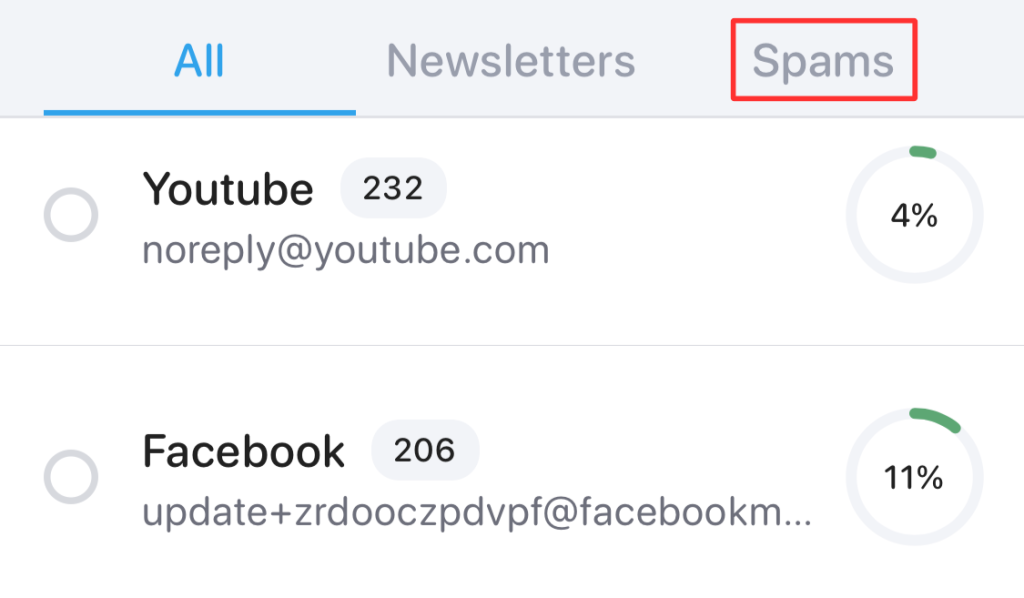 Click on "Select all" at the bottom of the screen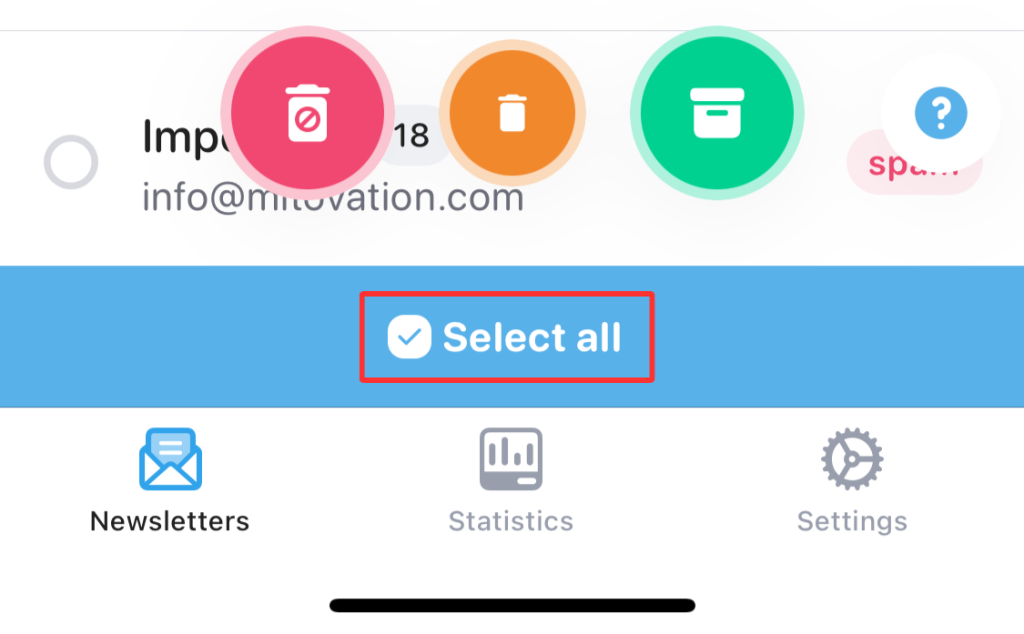 Then click on the orange button located on the middle to delete all selected emails
You've reached the end of our comprehensive guide on how to delete all emails from your mailbox, tailored for all devices and email providers.
Congratulations on streamlining your inbox and embracing a clutter-free communication system! Now, no matter which device or email service you use, you can efficiently manage your emails!